Venue: Fabrique | Capacity: 3100
Check in time for VIP upgrades:
Scream: 4:45pm
Room 483: 2pm
Humanoid: 6pm
Kings Of Suburbia: 4:30pm
Early entry: 6:45pm
Doors opening at 7pm
SETLIST:
I had the time of my life. No, I'm not talking about Dirty Dancing theme song, but of the incredible experience of meeting my favorite band for the very first time. I mean all four of them together, not only one or two members. And I still can't believe it.
It was such a wonderful day also talking about the weather. My friend Elena and I (we shared this experience together) arrived in front of the venue around 11am just to get the (useless) numbers for the VIP section and stopped talking with Marika and Elisa, which I knew during BILLY signing session last year.
We were really really excited and couldn't believe in few hours we were going to meet the guys.
Around 2pm we finally came inside the venue. A girl from Treehouse Ticketing put a bracelet around our wrist and gave us a 10% discount for the online TH merchandising and a password for getting our professional photo with the band + a Tokio Hotel Dream Machine Tour sticker. We asked her where we could leave some presents for the boys and she gave them to Jan, who later explained us all the stuff about the stage structure. Then we sat down in the VIP area waiting for the boys meanwhile the team was doing some soundcheck with random music but the basses were really really bad just like the last time I went to Fabrique for Jack Garratt concert.
By the way meanwhile we were waiting the girl put our bags with the gifts just near Georg's seat and we were: "OMFG! What if they unwrap the presents?" and then the girl asked if anyone else had some gifts so she collected them all together and then explained we could ask them whatever we want and then during the photos we could ask them first to have a hug or a kiss. We were still waiting when Jan and Thorsten (the guy with hot pink trousers) said us to join them under the stage so they could give us some info about the stage, the costumes and stuff like that. Jan told us he wasn't very fluent speaking in English (actually he was) and then explained the idea of this stage  came from the boys and it took one year to project it and for build it up every night in every city it took several hours. The team was there since 9am that morning and the next day they were in Rome so the schedule was really closed. After the concert was over in Milan, the stage has to be unbuilt and brought in Rome during the night so they could have the right time to set up everything. There were a lot of people who were still working when we were there and Jan introduced us some of them and told us they don't come from only from Germany but there are some US people and few from Poland. He continued telling the outfits are a Bill's idea and he was helped by a fashion designer instead the boots are from another one stylist (Marc Jacobs). Then he told us about the computers used during the shows for the additional effects especially on Bill voice so it sounds like the album version. A girl asked about instrumentals brands and programming so Thorsten asked for (well the band uses the same brands since the beginning like Fender, Gibson and Sandberg for guitars and basses, TAMA and Meinl for drums and now they use KORG and Roland for keyboards).
After that we came back in the VIP area and waited a little more. Finally the boys arrived and we couldn't believe it. I have to say it seemed to watch an interview via YouTube and not being there because it was surreal. They were there, in front of us, ready to answer to our questions. Bill began with some Italian words and gestures saying it was really hot and he was melting XD
The Q&A started with a TORG question. A girl asked what Tom likes the most about Georg. The bassist replied: "Maybe he could tell you what doesn't like the most!" 😀 Tom thought about that and then replied saying Georg is like a brother. Then another question about Spain and why they didn't come there and if there could be a chance the band come back to this country. Bill said that maybe they will come back. I was like: "DAMN! But always the same questions?" so Elena and I decided to raise our hands in the hope we could be pick, at least we have asked something different.
Bill pointed me and I was like: "Really me or someone on my back?" So I asked them what's the funniest or weirdest thing that happened to them during Dream Machine recording session. It had to be such a tough question that I left them speechless. They started to confabulate and whispering each other, I heard them mention "documentary… it's in the documentary" [Tom said that], then Bill repeated "the funniest thing" and I was like: "or the weirdest one" and after a while finally he replied the funniest/weirdest thing was inked some fans in Berlin. He explained how it was funny because he never did something like that before and it was so random.
Then also Elena was picked and she asked [before saying: "I'm falling" because she was unbalanced :p] if they like reading and what they thing about reading and literature. BAM BAM BAM BAM ahahaha they said to don't have so much time to read books and Georg began with a very wise speech saying: "you know if you start to read a book then you are involved in the story and it's hard to stop. But we don't have so much time for that even though we'd like" and then Tom added: "I try to but I open the book, I read the first page and then I fall asleep" and he also mimed it 😀 Bill also said: "if I have a free day and I have to choose between Netflix and a book, I pick Netflix" and we were like: "yeaaah" #thumbup AHAHAHAH Georg also mentioned the title of a book he liked it, Tom and Bill also confirmed it's good, but actually we didn't get it.
Elena and I were so happy that spent the last part of the Q&A hand in hand because we couldn't believe it. I think our smile was way too bright 😀
Other questions the band replied / other moments that happened during Room 483 Q&A:
[For Tom] How could you explain to a deaf person Bill's voice with a colour? Tom replied: Emerald green but the girl didn't get the meaning and he was: "like your hair colour"
A girl showed her tattoo on her belly and Bill said they wrote that song in Spain
A boy asked Bill: "Could you get ink to me?" and then tried to left him his address but Bill was a little bit confused and that he could practice on Tom first.
A girl told the boys if they remember she was the one of won the auction back in 2007 winning Tom's signed guitar from Monsoon music video. She reminds them every time she meets them but the band seemed to don't remember of her. Bill said her they see so many people they can't remember them all.
Bill mentioned Pumba when a girl showed him stuffed Pumba and he said he's gonna reunite with him in 5 days.
Another girl asked Tom about the production process and he explains that usually it starts from a beat or a riff and then he works on it, he tries to give it shape and a structure to the whole track and only after all that the lyrics are added.
Tom and Bill mentioned they would like to open a night club one day, probably in Berin, in which you can party for long time (because in LA clubs close at 2am) and you can have the time to attend live shows and stuff, like getting ink ect.
I didn't hear well some of the questions because people didn't speak so loud, also for the boys was tough hearing them.
We were around 30 people and I think they replied to half of us and after that It was time to take the photos with them. We started to queue one by one and I said Elena to go first so I could see her. Mike (Bill & Tom assistant) was there and keep saying: "no hugs, no kisses" and Elena replied: "but she told us if we ask them…" and he was like: "no hugs, no kisses" but when was Elena turn she greeted the guys and asked them for a hug AHAHAHA Tom hugged her such in a lovely way and his face was so cute. Then was my turn and I decided to don't ask for a hug, I didn't want it could be a mechanic act like the most part of the times. So I just say them: "Hi" with a huge smile on my face. Gustav said: "Ciao" to everyone. Bill looked at me in a sort of X Ray exam and then asked me: "How are you?" I deduced it's his phrase dedicated to me. He also said it during BILLY signing session the year before. But this time I was: "FINEEEEE" and then I embrace them for the photo and exclaimed: "closer closer" because I'd like to have them closer instead of some photos I've seen in which Georg or Gustav or both are miles away from the others. Tom added: "she got it right!" because before our turn a girl shot a photo something like three times because she turned out with her eyes closed. And I was like: "Ok!" and I was all smiling and Tom said: "Have a good time. Have fun" I was driving crazy. It couldn't be true!
I had to congratulate with Thorsten on his amazing pants and then Jan gave me the signed poster of the band. I stopped with Elena saying it was a really interesting package, especially because there was the stage part and we said his English was fluent. He was surprised because he didn't think to have a fluent English, thanked us and added: "see you later"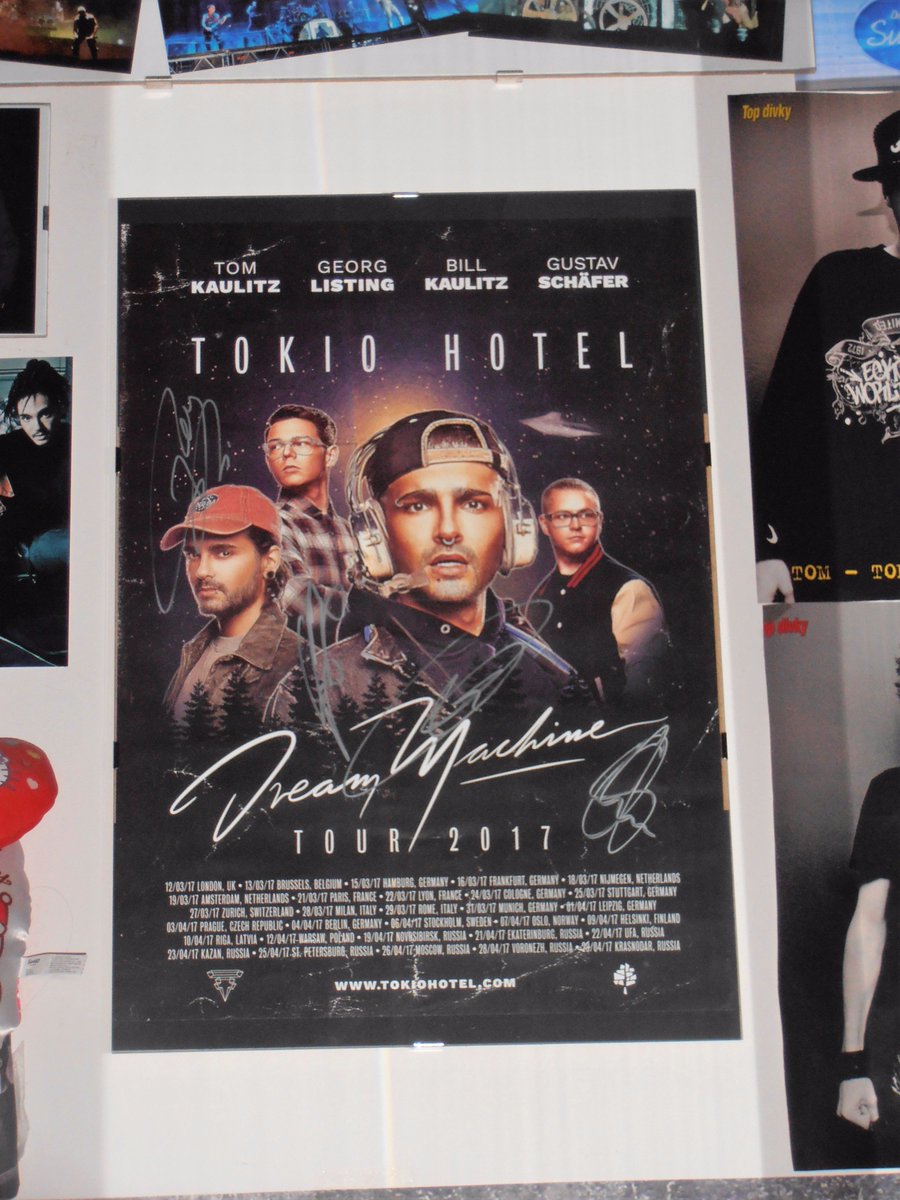 We came out the venue and started to cry holding in a long embrace. Then we called our moms for telling them what just happened and then did the same with Elisa and Marika.
We really had a blast!
Around 7pm we came inside the venue again. This time for attending the show. It was the first time we didn't run to reach the parterre. We just walked. Of course we didn't get the front row because before of us there were Humanoid package but we placed in third or fourth row, Tom's side.
It was really really hot, people started to pushed before the beginning of the concert and it was really stressing to stay up with barely no air.
When the concert started the crowd went crazy and we started to be pushed and pulled, and we sang so loud I barely heard Bill singing for the first couple of songs.
I think during Feel It All it was a real mess. I was trying to keep Elena, to shoot photos, to sing, to have fun and to stay up because I could fall in an instant with all these pushes and pulls. Elena was like: "I think I go out this mess!" but when Tom came down the structure and started to play in front of us she was: "I changed my mind. I stay here" 😎
During Love Who Loves You Back, I had several exchange of looks with Bill. Also Elena noticed it and when the concert was over she said me: "I had to say it to you but it was impossible with all that mess!". I have to say that "thanks" to all these pushes and pulls we moved just in the middle of the stage, I was just in front of Bill and having wedges helped me to see everything and also shooting great photos. Probably the best I shot in a Tokio Hotel concert.
During Run Run Run I shot this photo and I was like: "HOLY CRAP!" (actually I exclaimed: por*o ca**o, in Italian, there's no an actual English version for this though :D) and in that moment the whole venue was in silence >.<
The whole concert was insane. They are really pro and know what they are doing. The stage is their home. They are so overwhelming and gave us a wonderful show. I loved the intro and all the instrumental interludes, how they change from an instrument to another, especially Tom and Georg. It was like Kraftwerk meet Daft Punk and it comes out a Tokio Hotel show.
Girl Got A Gun and The Heart Get No Sleep are still two amazing songs to play live.
Elena and I have been wet by Tom and Georg's water *_* it's such a ritual.
Unfortunately Gustav didn't do the wave in the end of the concert ç_ç
Once the show was over we reunited with Marika and Elisa for a photo and then got TH sweater and poster at merchandising stand (we also had 10% discount because of the VIP package).
It was a night to remember and we can't wait to live it all again!
Check all the photos I shot during the show HERE