Venue: Ogni Ufy | Capacity: 1500
Check in time for VIP upgrades:
Scream: 6pm
Room 483: 3:45pm
Humanoid: 6:30pm
Kings Of Suburbia: 5:40pm
A couple of Room483, Scream and Humanoid packages are available on site through our concierges – @treehouseticket
SETLIST
#DMUfa #dreammachinetour pic.twitter.com/Iw48xKpvvO

— Elen. (@elenkolt) April 22, 2017
22.04.2017 Airport in Ufa this morning #DMUfa pic.twitter.com/9WKMSvvLsG

— forum.tokiohotel.ru (@forum_th_ru) April 22, 2017
22.04.2017 #DMUfa near their hotel Sheraton
by https://t.co/fFxfnXvSFC pic.twitter.com/ydMSOTvnO9

— forum.tokiohotel.ru (@forum_th_ru) April 22, 2017
 She gave her ipad to Bill for the autograph;he pointed at it & asked her in german "What? Here?" & and she answered "Da, blya, YES". And this is how it looks like
@elenkolt  – @forum_th_ru [translation]
If the construction on stage in 2010 was called Tom's left egg, then the nowadays construction could be called Tom's right egg. Though Tom said the construction today is smaller so it's more Georg's egg, not his)
The best advice guys could give themselves from 2005 is to look only forward – never look back and also be able to say sometimes 'no'
Speaking abt things they'd never do, Bill said shooting in porn, Georg – shooting in bad porn 😀 [But Georg can be filmed in a good porn with big fee – @forum_th_ru] They all said they'd never torture an animal.
They'd not participate in Eurovision contest 'cause they're popular not only in Germany but also out of its borders So, they'd not do it 'cause it feels unfair to other talanted German artists eager to become famous. They also consider Eurovision to be very politicized.
Tom told a story that they're flying in a plane recently and there was a crying baby on board. Tom said  that of he were that child's parent, he'd cover baby's face with a pillow.
Befor M&G Tom was eating a banana. Gustav said hellow in Russian.
– @THCVK
What kind of parents they will be like? The twins don't want to have kids right now, Bill has Pumba
They've learned some new dirty Russian language – Pizdato
Gustav don't mind if his daughter will play in a band, but only if she'll study well
The show today was almost cancelled :O
Maybe in a half hour the soundcheck will be starting
There are some technical problems at the venue
One of vip KOS today dressed like Harley Quinn, she's panic because she doesn't know the lyrics of Automatic & the band was laughing
Natasha apologized because of the organization today, there was no problem from their side
– @forum_th_ru
FULL GALLERY [credits to the owners]
#DMUfa #dreammachinetour pic.twitter.com/hzMznPKb74

— Elen. (@elenkolt) April 23, 2017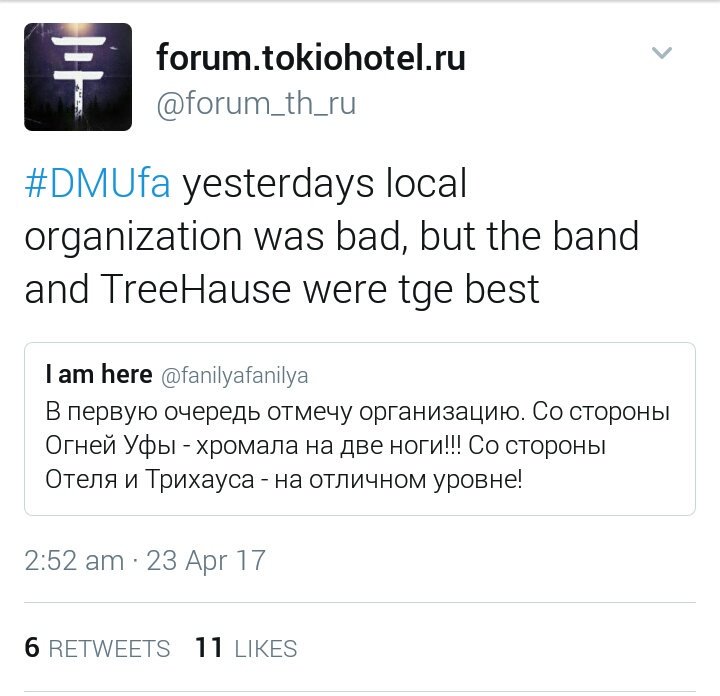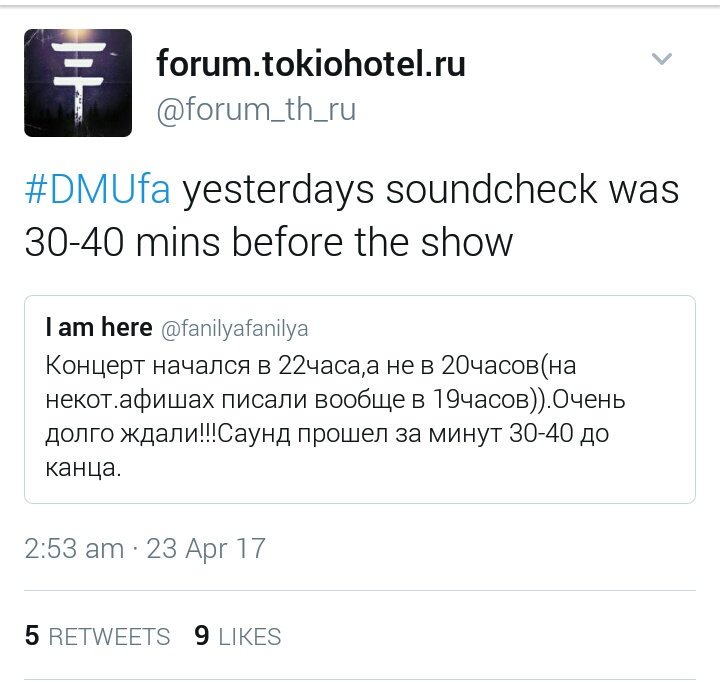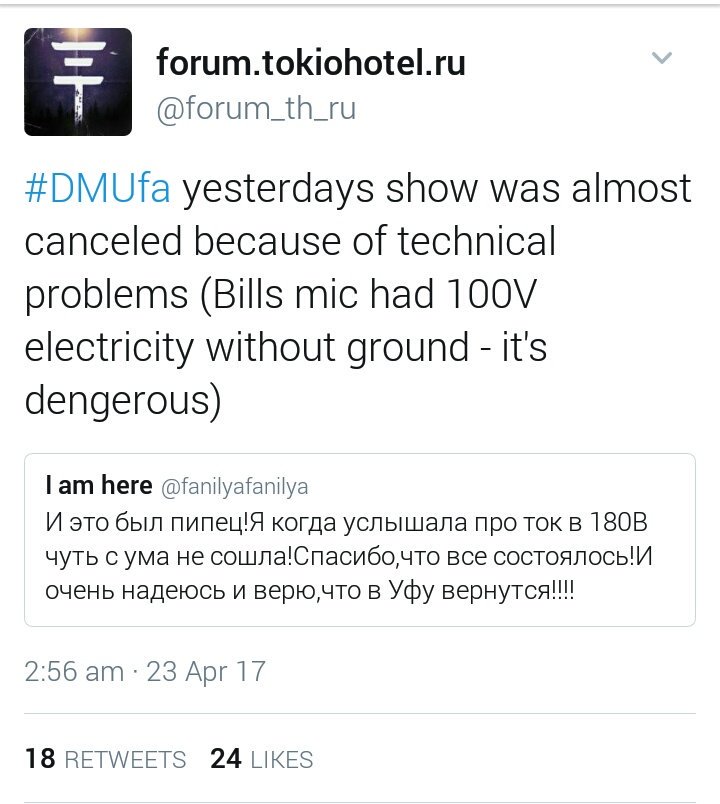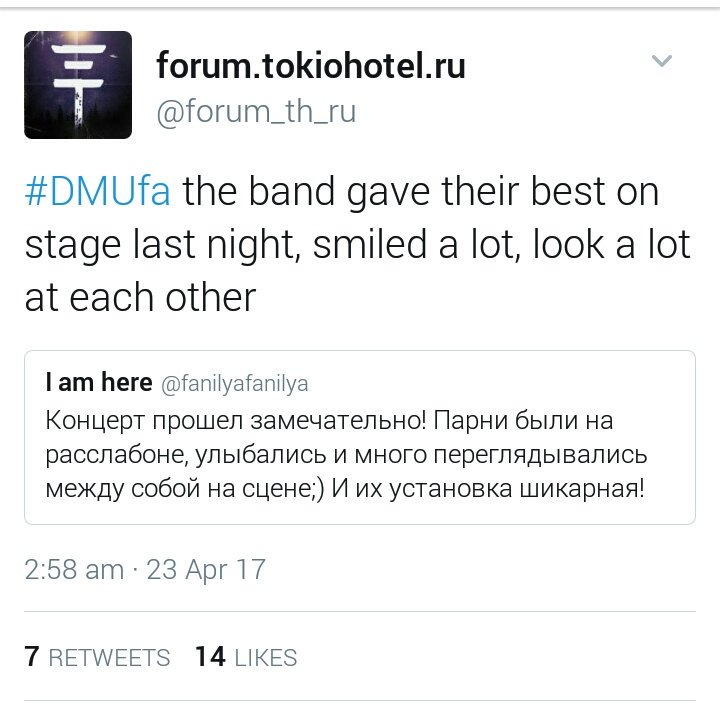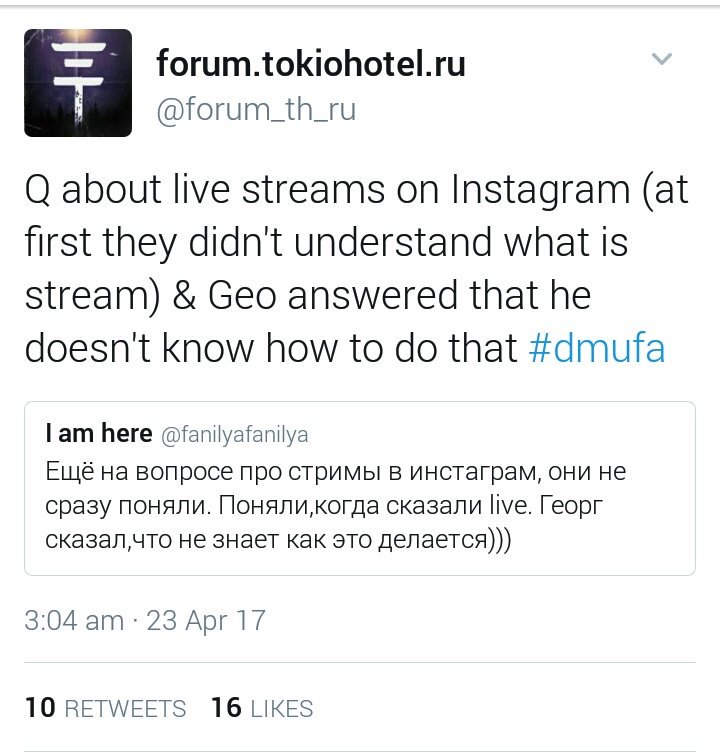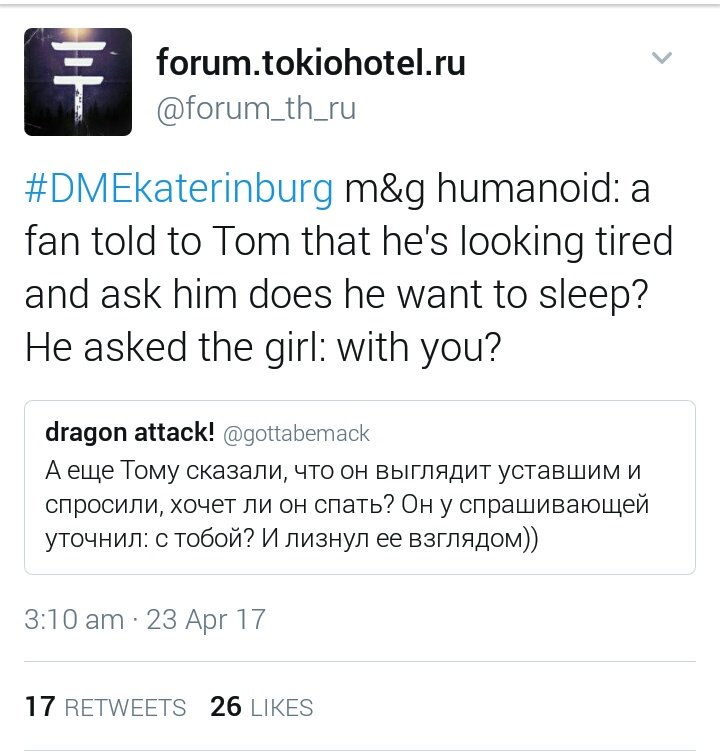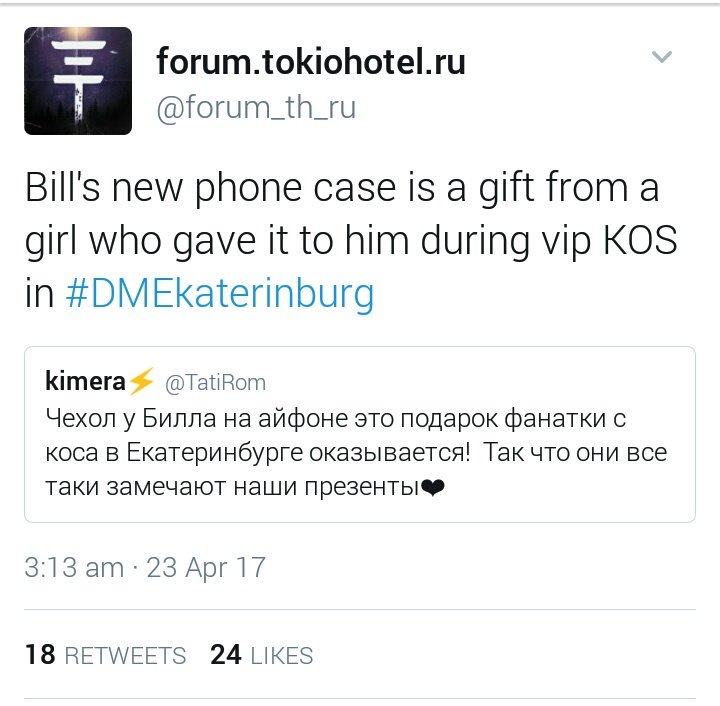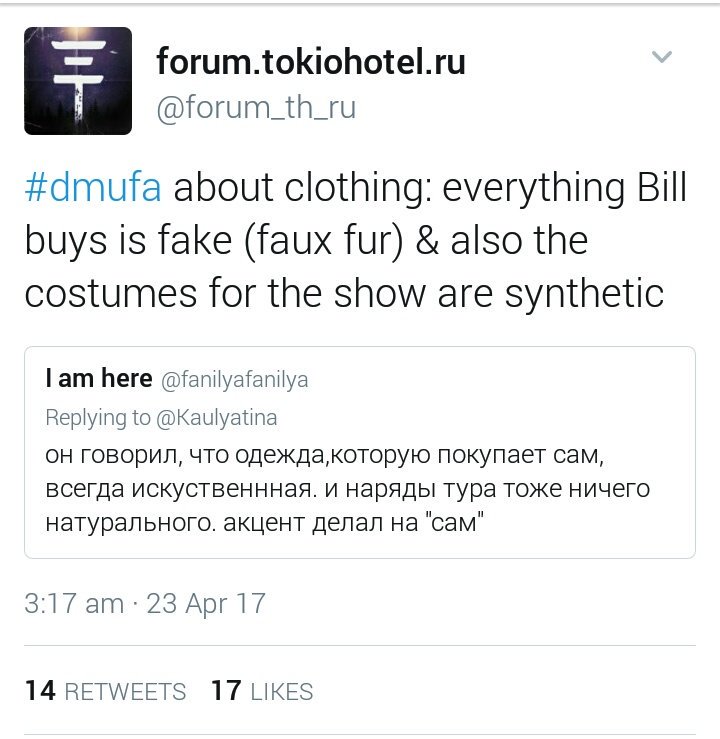 #DMUfa #dreammachinetour pic.twitter.com/Ly4mmDtMx3

— Elen. (@elenkolt) April 23, 2017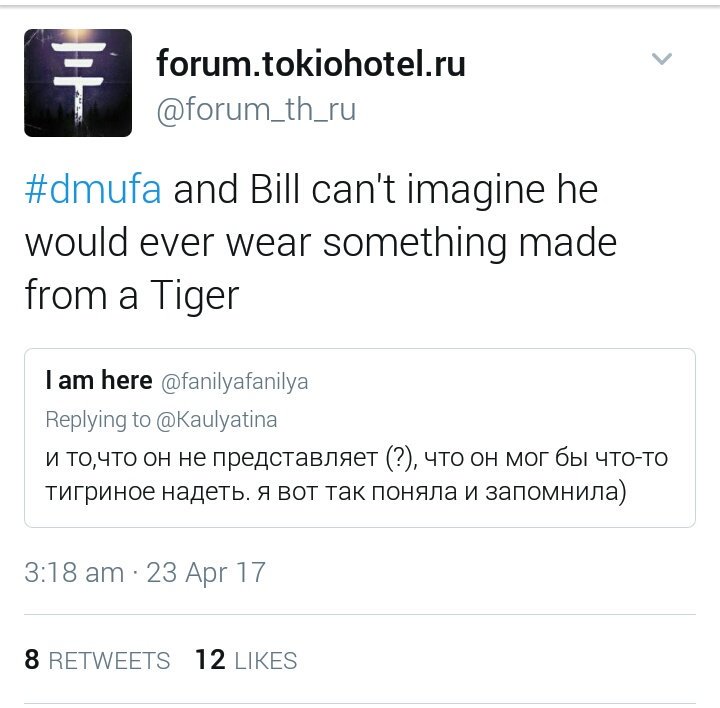 Один из милейших моментов с канца звучный чмок от Билла😘😄 #DMUfa #dreammachinetour pic.twitter.com/kgWAUAGVeN

— Elen. (@elenkolt) April 23, 2017