Venue: The Treehouse
Capacity: 600 people
Check in time:
Room 483: 2:30pm
KOS: 4:30pm
Scream: 5:15pm
Humanoid: 6:45pm
_______
Early entry: 7:45pm
Doors: 8pm
Show: 9pm
SETLIST
Gustav qui passe tranquillement 😂😂😂 #DMBERLIN pic.twitter.com/pMcGD4B9wN

— FireStarts to burn🔥 (@KlsLili) November 3, 2017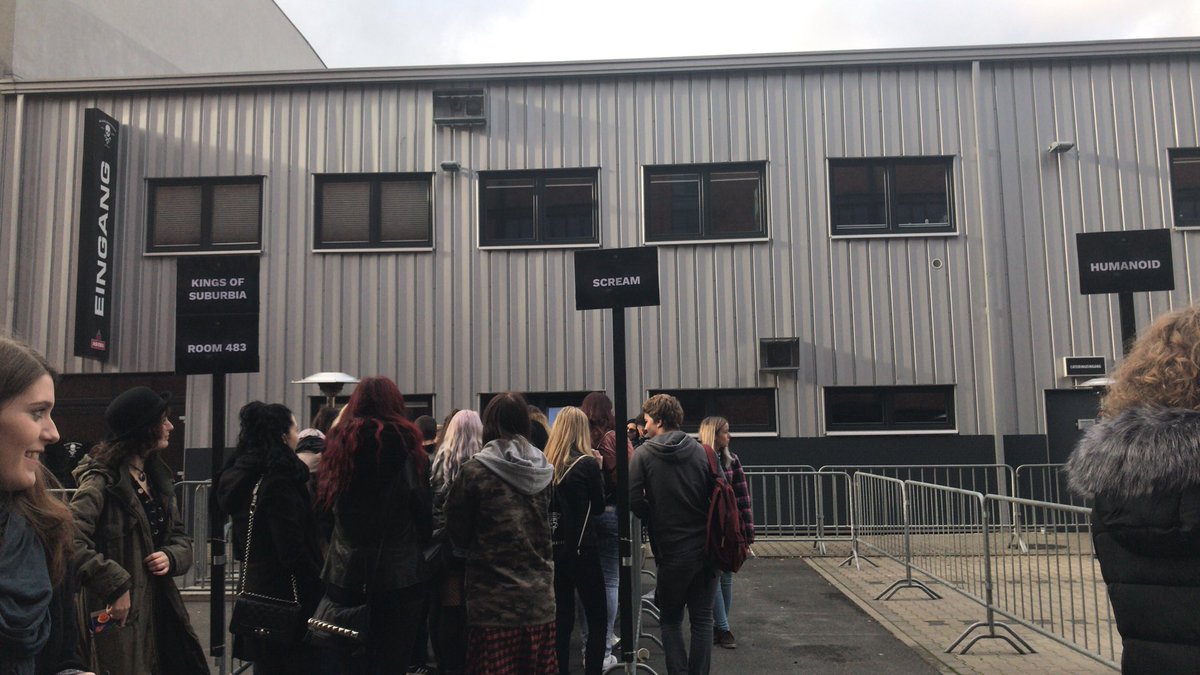 SOURCE: Thorsten Junge Instagram (Treehouse Ticketing member)
Got to stand between Tom and a Geo and got a hug from Tom. Didn't dare to ask for one from Geo but I stood next to him so life is complete. I also dared to say a few words so yes. Absolutely amazing experience  They were so happy and relaxed and smiled at everyone and it was all just very calm and nice

And now we saw Capper and Pumba, life is officially complete. #dmberlin pic.twitter.com/OEm9b1teuB

— Sandra🚀 (@LitenSpindel) November 3, 2017

Linda and baby Schäfer are enjoying the show from the balcony
The guys were playing ping pong before meeting and one of the fans got hit by a ball – @LeCactusDeGeorg
the guys are such in a good mood !!! omg bill and georg said bonjour to us
the bomber won't be available in the venues only on the website
Tom wanted to play automatic backstage but bill wanted black again #dmberlin we still have the drinking game tho. we are 'only' 10 in kos
Bill is wearing t-shirt from the merch, gucci shoes and a large pants. you're welcome.
everything from the merch is not available ye
still waiting for the kos ! the guys are with their friends and family
we went to grab some drinks in the catering and mike helped me open my bottle because i'm lame
it was short but so much fun omg we have so many funny videos #dmBerlin now waiting for humanoid
bill liked my present i'm so relieved
Bill « thinks » that the japanese symbols on the scarf mean tokio hotel 😂
a girl asked for a live album and Tom said we would have to choose between that or next album and if we choose live album we'll have to wait 4 more years – @LeCactusDeGeorg translated by @lilyhct
Now the scream people are going in [a hour later of the schedule]
The regular tickets queue are listening to ich bin nicht ich, okay.
Check in for Humanoid began [in time]

Front row on toms side I die
The venue is so small.
I got a selfie with Tom. And at the group picture I'm looking st Tom and Tom at me. And then bill said "or you wanna kiss?" And Tom was laughing and said really shy "no we're too shy for that"
– @unkreeativ
I think there's less VIPs than in the first leg ???? half of the amount i remember from berlin last gig but I might be wrong

It doesn't look like sold out venue atm.
I'm 90% sure songs are differently arranged. I swear I'm dead.
I wanna know what's the story behind Bill turning to Georg during Black and Tom being jealous and smiling. They did it again
My live selfie (thank you @apple)caught the moment when Tom says I look great and my T-shirt is amazing. I'm crying a river.
The M&G (Humanoid) is on another venue.
lol we have to take the elevator for the M&G
alright we're there where the guys did their rehearsals if you know what I mean.
After the KOS people went out of the row the fans started to push
I recorded the whole concert (only the tone) so I hope I can do a live CD.
they said they're not sure of we're gonna take selfies or not but we fucking paid for it?! I guess they're just confused today. I mean it's the first show and everything but I would be SO pissed if we can't take selfies. Otherwise I want my fucking money back. Seriously. So we're taking a selfie. Thank god.
Waiting for the Q&A to begin. #dmberlin pic.twitter.com/mu7Zc6g3k7

— ❍ (@unkreeativ) November 3, 2017
Yep it was pretty fast, I asked if pumba is okay because he was shaved. He's okay he just had a check up every 6 months because of his heart.
@unkreeativ
Waiting in front of the venue! Omg the way to get here was so creepy you had to go through the woods for a while
Almost check in time!
haha I just checked in my Humanoid at Natasha and she was like: 'heeee nice to see you again!!!' Hahahaha
More then half an hour delay already hahaha .. humanoid check in was at 18.45h and we're still outside
We are standing second row and the end of the venue is right there. It's so ficking small .. this is gonna be HORRIBLE
Humanoid and Room483 are in, and I think Scream will follow soon!
During the m&g Tom and I had like eye contact like 5 times?! And everytime I looked away bc I felt uncomfortable and awkward. just because he's so pretty and his big brown eyes .. i just can't handle that
btw Gustav's wife and his daughter also walked through the place were humanoid was waiting ❤ so cute!
Somebody in the crowd is running th old albums best time to listening to Spring Nicht
Mike is outside with Pumba and Capper
It's so small. Humanoid is IN.#dmberlin pic.twitter.com/j4CwIFTYQ7

— your mia (@xmeinanfang) November 3, 2017
Small and cosy 🙂 #DMBerlin pic.twitter.com/nK5tvSJBqf

— Sandra🚀 (@LitenSpindel) November 3, 2017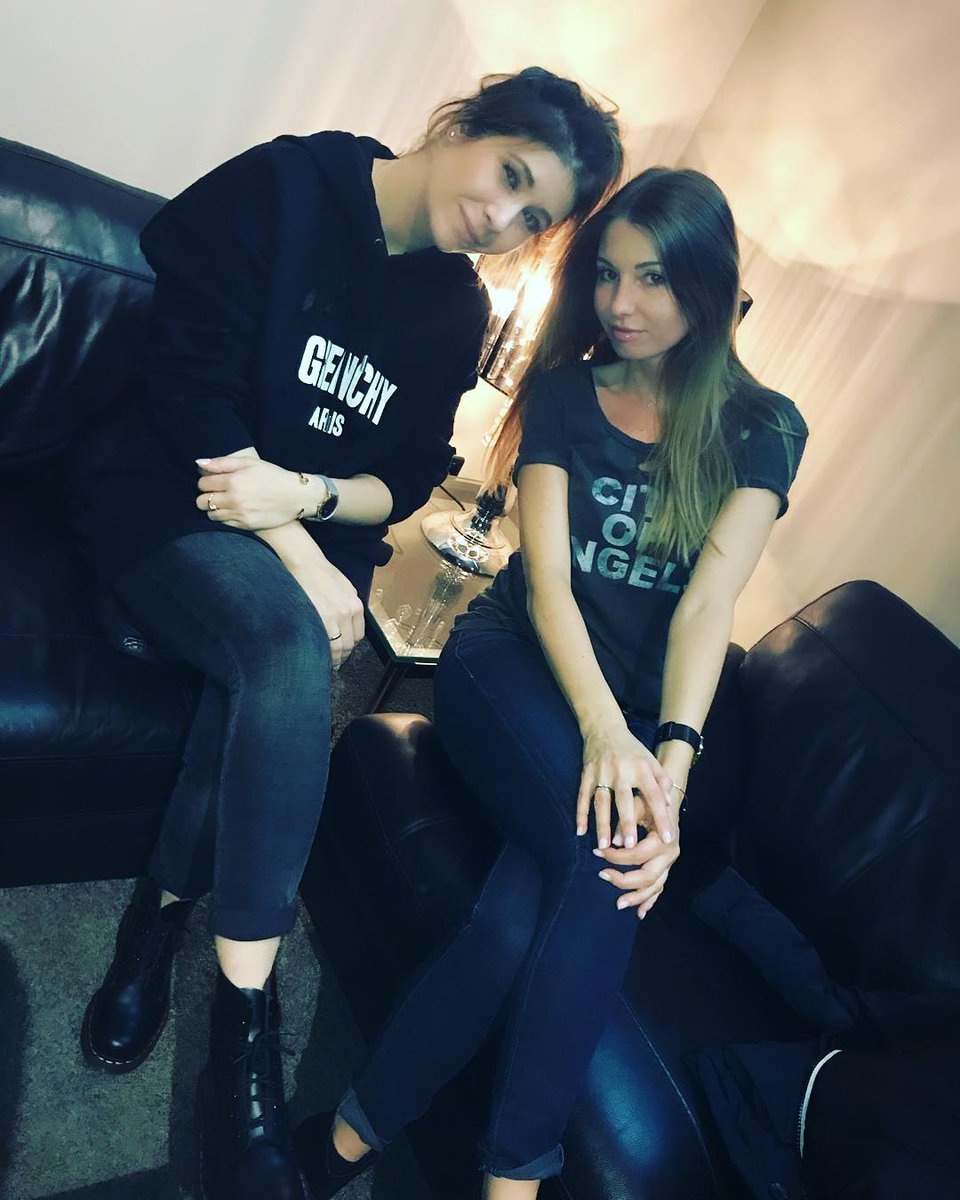 Gustav's wife (left) @THCVK
The show has started
CONCERT FULL GALLERY
[credits to the owners]

CLIP
BACKSTAGE GALLERY [credits to the owners]
MEET & GREET GALLERY [credits to the owners]
#dmberlin Update: #bdc https://t.co/me9XIURG6A… #tokiohotel pic.twitter.com/IpYNa5gM52

— Tokio Hotel Wola (@THWonderland) November 3, 2017
#dmberlin Update: #fiahttps://t.co/me9XIURG6A… #tokiohotel pic.twitter.com/dLJjmMIleD

— Tokio Hotel Wola (@THWonderland) November 3, 2017
if you got drugs, now is the time to take them – @TokioHotelGER
Source: https://t.co/1lNw1Ir56U#dmberlin pic.twitter.com/rBx24kDSpV

— TH Community VK (@THCVK) November 3, 2017
Source: https://t.co/1lNw1Ir56U#dmberlin pic.twitter.com/g6X9p46epX

— TH Community VK (@THCVK) November 3, 2017
#dmberlin Update: #black https://t.co/me9XIURG6A… #tokiohotel pic.twitter.com/7Up739qS4u

— Tokio Hotel Wola (@THWonderland) November 3, 2017
#dmberlin kos m&ghttps://t.co/gCMe58xO1j #tokiohotel pic.twitter.com/8LJ1oIzLl1

— Tokio Hotel Wola (@THWonderland) November 3, 2017
#dmberlin kos m&g https://t.co/gCMe58xO1j … #tokiohotel pic.twitter.com/wtgpuKpljs

— Tokio Hotel Wola (@THWonderland) November 3, 2017
#dmberlin automatichttps://t.co/EPTXuAVcjg #tokiohotel pic.twitter.com/2tt39DFZ4W

— Tokio Hotel Wola (@THWonderland) November 3, 2017
#TomKaulitz #GustavSchäfer #DMBerlin https://t.co/BgwhlhO7hn pic.twitter.com/uUjkIaGYK4

— Dream Machine 🎤 (@TH_Kings) November 3, 2017
Source: https://t.co/1lNw1Ir56U #dmberlin pic.twitter.com/dHppUaNAQ2

— TH Community VK (@THCVK) November 3, 2017
Source: https://t.co/1lNw1Ir56U #dmberlin pic.twitter.com/sIPgTH7J3V

— TH Community VK (@THCVK) November 3, 2017
#dmberlin ddm https://t.co/aHTQE67PYD #tokiohotel pic.twitter.com/Z4fPCjFo2U

— Tokio Hotel Wola (@THWonderland) November 3, 2017
Source: https://t.co/1lNw1Ir56U #dmberlin pic.twitter.com/uxoYnCejO4

— TH Community VK (@THCVK) November 3, 2017
Source: https://t.co/1lNw1Ir56U #dmberlin pic.twitter.com/Jc4K5ctr6z

— TH Community VK (@THCVK) November 3, 2017
Source: https://t.co/1lNw1Ir56U #dmberlin pic.twitter.com/s2SjxMTKaP

— TH Community VK (@THCVK) November 3, 2017
Source: https://t.co/1lNw1Ir56U #dmberlin pic.twitter.com/D8rqzvIjwq

— TH Community VK (@THCVK) November 3, 2017
https://t.co/oRp1D2znUA #dmberlin pic.twitter.com/n0OLlA71M6

— vico (@vicorale_) November 3, 2017
https://t.co/oRp1D2znUA #dmberlin pic.twitter.com/kbiwz9vROH

— vico (@vicorale_) November 3, 2017
https://t.co/oRp1D2znUA #dmberlin pic.twitter.com/edBIusZjTa

— vico (@vicorale_) November 3, 2017
#KOS #DMBerlin https://t.co/BgwhlhO7hn pic.twitter.com/RqFfEWgWD1

— Dream Machine 🎤 (@TH_Kings) November 3, 2017
https://t.co/oRp1D2znUA #dmberlin pic.twitter.com/PWuNvsWmbL

— vico (@vicorale_) November 3, 2017
Source: https://t.co/SZ5XUf7BPq

#dmberlin pic.twitter.com/LRLbNlIg5T

— TH Community VK (@THCVK) November 3, 2017
https://t.co/ZIdI3RAHYX #dmberlin pic.twitter.com/fIZFnCMrQU

— vico (@vicorale_) November 3, 2017
#DMBerlin #TokioHotel #TomKaulitz #DrumBattle #BillKaulitz pic.twitter.com/FvVvX8V6XI

— Blueberry 丰 (@BlueberryFeng) November 3, 2017
this was my mood every second tonight #DMBerlin pic.twitter.com/ZCpWgcLTP0

— Mary (@aalliieenn_) November 3, 2017
Btw they did some changes to the songs! There was some strong bass in Feel It All and "hey" part of DDM sounded different – @Jula483
I'm seriously never getting over this #DMBerlin pic.twitter.com/wHPmTDpYxf

— Sandra🚀 (@LitenSpindel) November 3, 2017
When life was EASY 🎆🎇❤💙 #DMBerlin pic.twitter.com/L9DTlocLxF

— DarknessEndless. (@Wild__DE) November 4, 2017
there won't be a tour with the band for Hinter die Welt. It'll be on Arte in 2018 and available on streaming platforms – @TokioHotelGER